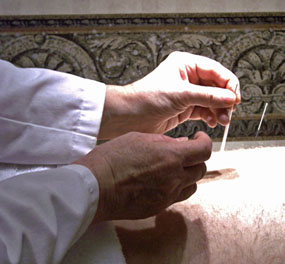 Or call me at: 203-654-1808
(used to live in Connecticut, NY resident now)
Rebecca Nye
45-06 Queens Blvd
#258
Sunnyside, NY 11104
Iím happy to help point you in the direction of better health and knowledge, whether or not you are ready to make an appointment at this time.
To set up your first appointment, or to ask me any questions, please contact me by email at:
Having you fill out and return the Health Questionnaire is an essential part of the diagnostic process.
My review of your completed Health Questionnaire in advance of your appointment saves time and helps me to determine your unique constitutional and symptom pattern(s) in order to treat you appropriately.
Once filled out, the Health Questionnaire can be scanned and emailed back to me by attachment, or mailed to me at the following address:
(Please Note: If you mail me the questionnaire, please send me an email letting me know, so I can anticipate its arrival. Messages to me will receive a reply/confirmation within a 24-48 hour period.)
NEXT: To set up your tentative appointment time, weíll need to either speak live on the phone (be sure to leave your contact number and best times to call), or through an email exchange. Iíll let you know as soon as Iíve reviewed your Health Questionnaire, and at that time, your appointment will be confirmed.
I look forward to hearing from you!